ClusterTech unveiled its breakthrough ClusterTech Platform for Atmospheric Simulation (CPAS) numerical modelling solution at the Meteorological Technology World Expo 2019 on 5-7 June 2019. This Expo is the world's largest meteorological event, attracting over 4,000 visitors, including senior scientists, governmental officers, management from meteorological offices, research institutes and so on.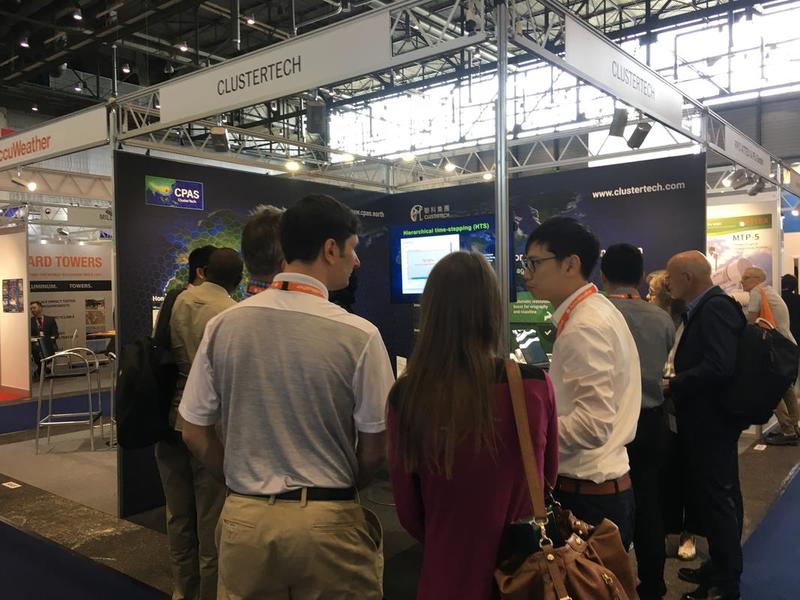 Before the show, CPAS was highlighted as one of the most important new products. Our professional meteorological team provided in-depth demos and elaborated the key innovations to the hundreds of attendees that visited our booth. Visitors included delegates from the World Meteorological Organisation (WMO), who showed great interest, proclaiming that CPAS was "very interesting and innovative".
CPAS is a cloud-based service platform which implements customised mesh generation and hierarchical time-stepping on Model for Prediction Across Scales - Atmosphere (MPAS-A (v6.3)). This enables CPAS to better serve the computational needs of numerical atmospheric model users by avoiding small timestep on large cells, significantly boosting efficiency.
The meteorological team of ClusterTech has been providing air quality forecast and meteorological model execution services to clients from 2003. For more than 15 years, we have served the Hong Kong Observatory, the Environmental Protection Department of HKSAR, and organisations in mainland China.
For more information, please visit CPAS' official website: www.cpas.earth
About Meteorological World Technology Expo:
Meteorological Technology World Expo is a truly international exhibition of the very latest climate, weather and hydrometeorological forecasting, measurement and analysis technologies and service providers for a global community of key decision-makers within the aviation industry, shipping companies, marine/port installations, airports, military operations, off-shore exploration companies, wind farm operators, meteorological offices, agricultural operations and research institutes.